Sidelights on Tantra
DEVI-PUJA
Devi-Mahatmya
THE SECOND CHARITA
    In the second Charita of the Devi, Medhas the sage narrates the story of Mahalakshmi. Mahishasura, the buffalo-faced demon, as a result of his mother Diti's austerities and penance, was born powerful, growing impetuous and endowed with a world-shaking passion for power over gods. Conquering the gods, he established his power in heaven. The vanquished gods headed by Brahma approached Shiva and Vishnu for consultation.
When the latter learnt of the plight of the gods, they got so much enraged that their wrath emitted fire; powerful lights of splendor emanated from the bodies of Shiva, Vishnu, Brahma, Indra and other gods, forming into a vast mass of Light that took the shape of a woman whose radiant effulgence filled the three worlds. The forceful light of each of the gods formed into a particular limb of the woman – her face was shaped by Shiva, hair by Yama, her rounded breasts by Soma, waist by Indra, shoulders by Vishnu and other limbs similarly by other gods. She was also provided with the respective weapons of the gods. This is the Devi, the Goddess Mahalakshmi, who appeared and challenged the Asura with a thundering roar that shook the three worlds. The gods rejoiced when She slew the Asuras with her weapons  and get close to Mahishasura and pressing him under Her feet, thurst the trident, shula, into his body.
The gods regained their lost kingdom, adored the Devi and sang Her glory.
Highly pleased, the Goddess promised to come to the rescue of the gods whenever there was need or they were put to trouble by the asuric forces, the demons.
Thus ends the second Charita, the story of Mahisasuramardini, the title of Mahalakshmi, the Goddess who presides over Rajas, the cosmic quality and power of all action.
T. K. Kapali Sastry
From : COLLECTED WORKS OF T.V.KAPALI SHASTY – Volume 1 – THE BOOK OF LIGHTS-I
PUBLICATIONS – Sri Aurobindo Ashram
Pondicherry – India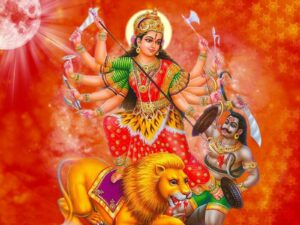 Images from Internet